Top-Rated Nonprofit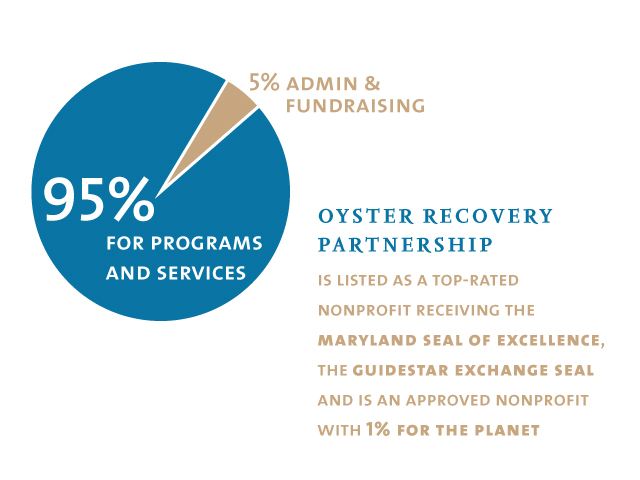 The Oyster Recovery Partnership is a 501(c)(3) non-profit organization commissioned as a cooperative coalition of multiple local, state and federal agency partners that contribute toward a large-scale restoration program that plants disease-free oysters back into the Chesapeake Bay.  We receive our operating funds through grants and donations from federal, state and local governments, corporations, foundations and private citizens. We believe in maximizing our monetary resources as 95 percent of our funds are used directly for restoration programs.
Seal of Excellence

ORP is a member of an elite group of Maryland nonprofits that have been awarded the Maryland Nonprofits Seal of Excellence. One of only 80 nonprofit organizations in Maryland to earn this honor, this designation reflects that ORP has been certified through the voluntary, peer-reviewed certification program for nonprofit organizations that adhere to the Standards for Excellence code. The Seal of Excellence is a trusted symbol of integrity, leadership, and accountability. Completing this rigorous review of all aspects of operations shows ORP's strong commitment to our mission.
Click here for more on Maryland Nonprofits.
Audit Information
The organization annually receives A-133 audits. (Financial reports are in pdf format)
ORP Financial Statements for 2013